My studio is based within the M J Forster Gallery in the market town of Hexham in Northumberland England. I manage to run the gallery on my own and spend most of the day painting. It's always a good break to have people come in and talk, I enjoy the social side. I work a five day week Tuesday to Saturday 10a.m to 5p.m.

I like this structure and the discipline of working a regular amount a week. I'm never in need of inspiration, it's more of a case of slowing me down.
I find now that after 35-40 hours of painting a week, that's all I can really do as it's very intense and more physically tiring than you might think.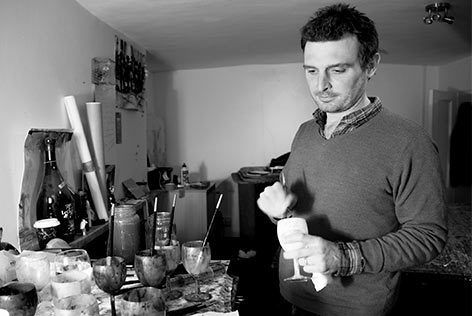 Has painting always been your passion?
Yes, it's been something I have been engaged with since childhood although it wasn't until my early teens that I began to realize it's potential. I mean not just in terms of how I enjoyed it but the ability to actually make a living as an artist. My interest was nothing to do with art at school that was always fairly insubstantial in comparison to what I was doing in my spare time. I always enjoyed copying images, anything and everything. Then my interest in landscape developed particularly The Lake District and the west coast of Scotland. I used to love to paint mountains and that is where my interest in water colour painting began.

I was fortunate that a local artist demonstrated to me the basic principles and techniques of watercolour. It gave me a confidence to build on this knowledge and through practice I was able to understand and overcome the perceived limitations of the medium resulting in my own distinctive style and techniques.
The passion has always been about the application of the paint, that's what drives me, it's the whole point of putting the paint on the paper and creating, it's like magic. It's a highly technical medium and without the skill of application you stand no chance.
Your education initially took a different path, how did you arrive back at the idea of being an artist?
After A-levels I undertook a foundation course but felt frustrated that it didn't fully expand my skill or way of thinking, it confirmed my initial sentiments toward education within the fine arts. There is a point where solitary dedication, practice and above all ideas become the essential components.

Frustrated I went to Loughborough and completed a degree in Sports Science but spent all my spare time painting and drawing.  During the holidays I would organize selling exhibitions to fund my university life.
Have you always engaged in the sale of your own work?
Initially yes, it always seemed very natural having that face to face contact.  I was selling my work aged fourteen and always had an annual exhibition even as a teenager, quite funny to think about when I look back. After graduating from University, I established my own studio gallery in Northumberland in 1997. This was highly successful both in terms my development as an artist and ability to run a business.

No sooner had I established myself that I felt the need to travel.  At the time, I thought that if I was to be taken seriously as an artist, I first needed to deepen my skill range, the most important being observational drawing.  Painting sales had allowed me to fund a two year period abroad spending extensive periods in Mexico, North America, and Asia before settling in Otago, New Zealand for fifteen months.  During this period, I immersed myself in the practice – painting and sketching literally non-stop. I also spent a great deal of time researching painting and its history. This enabled me to produce a very wide body of work that I returned to the UK with in 2003.
On your return, you set up a gallery again….
Yes, in Newcastle upon Tyne for six years to develop my Northern audience then in 2008 back up the TyneValley to Hexham. It was a period of massive experimentation. It's hard to describe how much work I achieved in those 6 years. On top of the basic skills I had obtained while traveling I pushed my work hard in a number of directions. Not just the traditional landscape painting but an enormous amount of abstract work.
What was the new style that emerged in your work, can you briefly outline it?
It was only possible for Überpainting to emerge as a result of the very exploratory work I did in this period.  I decided to confront the three main components of 2-dimensional work: tone, line and colour.  Through the medium of watercolour, I then sought to develop these components to a sense of hyper-reality.

This was a relatively natural development; I can see the roots of this style in my work from six years ago. I'd been painting within what I now term the Über process for a while when I realized the significance and potential of the new work and fully embraced it. From then on in terms of landscape painting it is fair to say that a whole new world had opened up to me.
There is an element in your work of a modern interpretation of impressionist landscapes, is that how you see them?
To a degree yes, although the process and execution of my work are the exact opposite.  Where I share common ground with the Impressionist movement is the need for the work to have solid drawing skills. I also admire their spontaneity and courage to break with the conventions of the day.  However, I too am seeking to represent an essence of a place, rather than striving to accurately record a location.

The process of my work takes an initial image through a series of refinements, a journey if you like, where the final piece is often very different from the initial study.  It's like  sculpture in a way; the first painting is like a cube of stone, I chisel away from piece to piece until the image emerges.  So within the creation of a finished piece there are numerous individual works created as the final design is refined, and the core, the essence, the queerness if you like, of the subject is revealed.

An Überpainting is like a silk screen print in watercolour as they consist of between three and five layers of different coloured paint applied independently and sequentially darker in tone. I mix colours from a primary base and it is the application of these successive layers that provides the images with the startling three dimensional impression.
The process of your work appears to be a long and precise one, do you think this will change with time; will the finished piece be perfected earlier in the painting process as you move on to new collections?
The structure I use to develop the work remains unchanged. There really are no short cuts to produce these original landscape paintings. It's like learning a language; I'm now fairly fluent, it's just what I'm saying is becoming more complex. The process is also becoming stretched over time. There are images I now return to on an annual basis. These act as a marker for me to see how I have developed my ideas, my skill.

I liken these watercolour paintings to a sonnet in the sense that they are created within a restrictive frame work and out of this restriction a greater creativity emerges.  I aim for the finished pieces to be the end of a journey striving toward a vision of perfection.  It is however possible that the process and structure will morph in response to different subjects, that remains to be seen. I have already introduced the idea of grading at least one of the washes as opposed to having them all flat. Even a change as small as this opens up an entirely different range of possibilities
Is there an element of improvisation in the work?
The whole design process is one huge improvisation, although in the execution of each original landscape painting I'm following the course of that design fairly rigidly within my own established set of rules. The final wash always provides room for a little variation.  However, as watercolour provides no room for error at this point it's tempting to play safe, although I never do.
Your work has initially focused on the British landscape, what inspired you to paint this particular subject?
ÜBERBRITAIN arose from a larger body of landscape painting I was tackling at the time. British landscape painting has a rich tradition; this fascination comes, I think, from being surrounded by a unique and diverse island. What I have tried to do is capture the essential elements of each location; this was very challenging and has created a very different collection of original paintings.

I have been working on UberBritain now for nearly four years and the deeper I go into the subject the more I am discovering. There are always new places and scenes that I think would suit this style of painting. If I had more time I would love to embrace the historical aspect and look at Roman Britain or Celtic Britain in more detail, or even look in to the future, British Science Fiction.
Can you apply this process to other subjects?
Yes, I have experimented with still life and figurative work particularly. If you would like to see some examples please email me at info@mjforster.com and I could send you some images.  As I mentioned earlier I was seeking to reduce a work down to the core elements of shape, line and colour as all subjects are comprised of these components essentially I see little difference between them. So in short yes this is a method that can and will be used in other subject, but one thing at a time.
I mentioned earlier the Impressionists.  I think they were the most important group of artists historically, it really was radical what they did at the time and it must have been very exciting. I like Van Gogh particularly – he was grounded in his ability; he was studious, very expressive and had fantastic skill in colour.

When I was very young and first learning to paint, I enjoyed interpreting the watercolours of Rowland Hilder.  He was a superb draughtsman, his compositions were perfectly balanced and he had a real understanding of the medium. He was able to control it yet retain an expressiveness which really is the key of my work.
Painting is a solitary, sometimes lonely act, how do you keep sane in the studio?
It's always tough in the studio; I paint standing up which has its physical stresses. I use an old easel from the Swan Hunter shipyards, it's fantastic, a real piece of engineering.

Any way I paint these paintings because they are fantastically hard to do.  I'm not really interested in easy things.  The thrill is overcoming problems one by one so there are small and larger rewards all the time.  The radio or a CD is constantly on – a wide mix of everything, it works well to be distracted to a degree from the painting I always get the best results when I'm not really thinking to hard, it's sort of existential.

I do take breaks and increasingly I'm enjoying social networking. If you want to join the Face Book site click here as I'll up date the very best tweets and a synopsis of the weeks work on this page. I also put all my images on twitter, every single sketch. So it's a good place to look if you want to see the real time development of a painting. Click here to go to my twitter home page. I also enjoy keeping the website current, it's one thing painting these original landscapes, but getting them in front of people is the really hard part.
Where do you want to be in 10 years?
I want to be creating outstanding watercolours. I have been painting in this medium for 20 years and feel that I am only at the start of understanding its potential.  If I can produce work like this now then in 20 years who knows what will happen. Hard to think that I've just had published a retrospective book. The painting comes first always, so I'd just like to keep finding subjects that enthuse me.