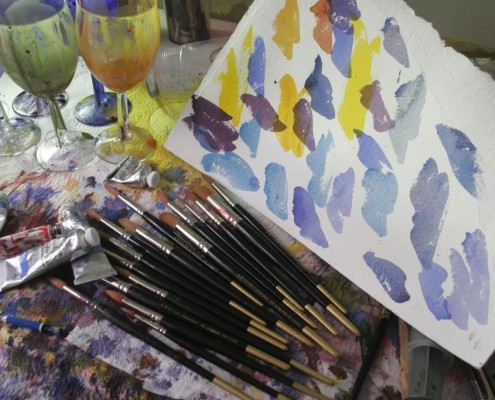 So I can confirm that I will be holding a series of classes in London from Monday the 29th of September to Sunday the 4th of October. It will be at the Royal Opera Arcade Gallery in St James http://www.roa-galleria.com/
I have decided that it's best to structure each session to take in as many aspects of the medium as possible. My aim would be that having left the class you will have a clear understanding of the theory, methods and materials needed to produce a top quality painting.
I hope to show you a range of techniques and ideas. Among these colour theory, colour mixing and tonal values. However and most importantly is ways to actually apply the paint to the paper, these are more numerous than you think.
I think your level of experience is irrelevant to your enjoyment of the class. There is room for discussion at all levels. I'll be happy to look at specifics on request. There is nothing you would need to bring to the class aside from yourself, although a camera and a  notebook may be useful.
See the list below of the 17 available sessions. Simply email info@mjforster.com me with your choice and I'll pencil you in. Each session will last about 2 hours. I realise it's a long way off changing class time and day should not be a problem.
Monday  28th Sept        10.30am, 2.30 pm and 7pm
Tuesday  29th Sept        10.30am, 2.30 pm and 7pm
Wednesday  30th Sept   10.30am, 2.30 pm and 7pm
Thursday  1st Oct          10.30am, 2.30 pm and 7pm
Friday      2rd Oct           10.30 am and 2.30 pm
Saturday  3rd Oct            11.am and 3 pm
Sunday     4th  Oct          12 Mid day
I'd like to keep numbers relatively small for each class as it's simply a better experience for us all that way, so each session will be £25.
So the session options are on a first come basis. To book your place I'd need the £25 payment. There are a few ways you can do this, either by bank transfer to sc 20 40 09 acc 5305 8581 or by paypal to info@mjforster.com I'll confirm your place with a receipt.
I look forward to hearing from you.  Matt
http://mjforster.com/wp-content/uploads/2015/07/Brushes-shot.jpg
683
1024
admin
http://mjforster.com/wp-content/uploads/2013/04/web-logo-300x137.png
admin
2015-07-03 13:40:36
2018-04-25 06:27:26
Watercolour Classes